Once, during a rainy day like today, you held my hand for the first time. Yes, other than this, I can't find an appropriate introductory line. And how can I? After all, our story isn't a fairy tale with a happily-ever-after ending. That particular rainy day and your holding my hand- all these things were not romantic too, if you consider romance to resemble the peppy Bollywood numbers. Yet, it was something like 'a special moment' to both of us. It was the first time in my life that a guy held my hand. That that moment meant special to you too, I came to learn later from you.
It was the first day of the month of Shravan, according to the Bengali calendar. It was the day after our social marriage. I was tired from all the marriage rituals of the previous day. Tired and irritated. Yes, that feeling of irritation started from the beginning. There was heated exchange of words in the morning between my mother and your sister over the phone. But blame it to my naivety, I hopelessly fell in love with you during those initial days of our marriage. That younger, fledgling self of mine failed to realise that this union was not fated to last for a lifetime, leave alone your promise to be my husband for seven consecutive lifetimes.
"Dulhe ka sehra suhana lagta hai,
Dulhan ka to dil deewana lagta hai..."
The song was playing in the car during my journey to my matrimonial home. There was a light drizzle in all the way during my journey. You, sensing my foul mood, instructed the driver to stop the music, and he obeyed instantly. Then you held my hand, as if to reassure me that everything will be all right. I was looking outside the window of the car. It seemed to me at that time that the God was blessing us. Those drops of rain, falling gently on earth, seemed to be some sort of heavenly blessing.

We have parted our ways legally now. You are not my husband any more. But even today, rain brings back memories of another world, in another lifetime, when we were husband and wife. Yes, our story didn't turn out to be a novel. So what? We have a story after all, albeit a short one. Yes, rainy days bring back memories of you and your love even now. Even now.
'
This post is a part of
Write Over the Weekend
,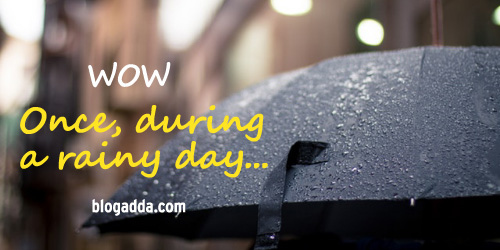 an initiative for
Indian Bloggers
by BlogAdda
.'