Our school-bus is stranded at the junction of four roads. The
traffic jam
is a common phenomenon at this time of the day. There is traffic snarls all around, busy commuters on the pavement, the December chill in the air and... and, that large
billboard
on roadside advertising "Lalita Dance Academy". A woman is seen in it, wearing dancing costumes, in a typical Kathak dance pose. Srija is a student of this dance academy.
Well, I haven't introduced myself yet. I am Satyaki Chatterjee, 5-years-old, student of KG in a school in Kolkata. Right now, I am on my way to school in my white-and-green school uniform and red sweater. I commute to and from school in our school's yellow-coloured school bus. Yes, my mom has allowed me to go by school bus now-a-days, as I am a big boy now and I don't cry when going to school any more. After all, I am not a
baby
any more, right? And I have made quite a few friends in school now... Aryan, Soham, Daniel, Rai, and... and Srija.
Srija is my classmate. I like her right from my first day of school. I still remember that day vividly. On that first day of school-life, the classroom seemed like a wild forest, full of strangers. I haven't known any place other than my
home
till then. In that unknown classroom, I didn't know who'll look after me, who'll take me to the washroom to pee, who'll feed me when I get famished. Mom was not seen anywhere. I was terrified and I started to cry. Srija was sitting in the desk next to me. Watching me crying, she too started to yell. It was a classroom filled with thirty odd students, all crying, sobing, yelling. Then came the teachers to console us. Our dance
teacher
, Priyanka ma'm, hugged both Srija and me, and comforted us. Later, when the cry subsided, I noticed her. In her pink cheeks, big eyes and brown traces, she looked really cute. I felt an instant liking for her. Gradually, we became friends and started talking a lot. We even got punished by the class-teacher for talking during class on more than one occasions.
The Annual Day
Celebration
of our school is scheduled to be held before the commencement of the Christmas holidays. Srija is performing a dance there. Last year too, she performed a dance. And needless to say, it was just fantastic! This year, too, I am eagerly waiting for the day just to watch her performance.
Today is 24th December. The whole school is decorated beautifully with flowers. The school auditorium is full of students. The anchor announces Srija's name. And here she comes. Today she is looking resplendent in her red-bordered yellow sari. She has mastered the dance moves even more perfectly during the past year. I am dazed. Then just when she comes down from the stage, Soham stands up from his seat, picks up a
rose
which was kept in a large vase within a bouquet of flowers in the auditorium and offers it to Srija. "You were just amazing", he said. Then he produced a Cadbury from his trouser's pockets and offers it too to her. "Soham, you are my bestie", she proclaims. I instantly feel something twinge deep within me. What is it called? Well, five-year-olds don't know it's name perhaps.
Soham's Papa has come from his official tour in Switzerland. "Do you guys know what I found when he opened his
suitcase
?", Soham is asking us. "What? What?", we all ask in unison. "See, these chocolates." He offered us all chocolates bought from Switzerland. "And this is only for Srija. These biscuits are called leckerlis. They have hazelnuts and they are very tasty." "Oh Soham, you always know what I like", Srija gives him a hug. I felt that familiar twinge somewhere deep within one more time. Then the
clock
strikes nine and our class-teacher enters the classroom.
The winter season has come to an end. The trees flanking the roads are flaunting new leaves. Once again, spring has come in Kolkata. Our final exam too, has ended.
Today is the day of distributing progress reports. "Congratulations children. You all are promoted to class one", says our class teacher. We all take our bags and get ready to exit from our classroom. I was coming out of the classroom when I heard a scream. "Help me! Please, someone help me!" It was Srija. A cockroach was right on her desk, staring at her. And to my horror, her school-bag was still there on her desk. A chill is coming down my spine. Danial, Soham, Rai, all are standing near the door, fear writ large on their face. Suddenly, I felt the need to protect her from this great danger. I opened my bag hurriedly, took out my pencil-box and hit the cockroach with it. Then I took Srija's bag from the desk and holding her by her hand, took her out of the classroom. "Satyaki, you are my bestie from now on". She gave me a tight hug, tears welling in her eyes. Getting promoted to class one can't be more wonderful than this. Isn't it, friends?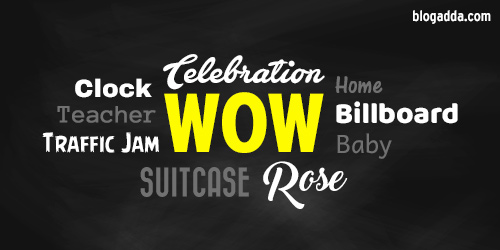 an initiative for
Indian Bloggers
by BlogAdda
.'